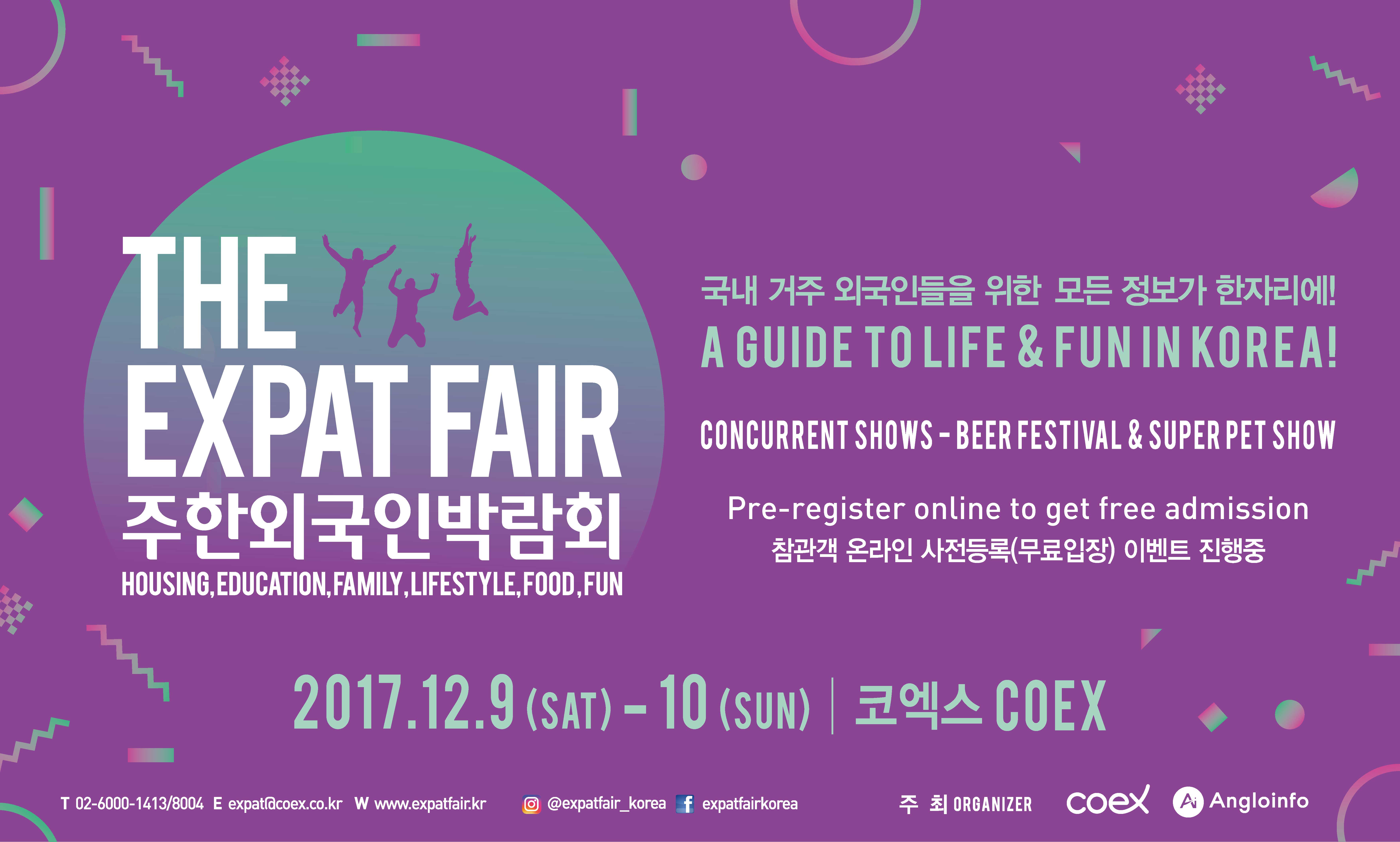 COEX OPENS LIFESTYLE FAIR FOR EXPATS IN SOUTH KOREA (The Expat Fair 2017.12. 9-10)
Coex is embracing the international community this December 9th -10th with its first ever expat lifestyle fair. The Expat Fair looks to bring together the expat community and representatives from education, living arrangements, medical information, tourism, and other lifestyle services. Visitors will have a chance to look for employment opportunities, meet new friends, and enjoy great food and beer to celebrate the winter season.
More than 10,000 expats are expected to come to the fair. Come and meet new people, discover charities, entertain your family, and learn more about the international community in Seoul. We look forward to seeing you all!
For more about the information, please visit our official website and social media channels.
Official Website: www.expatfair.kr
Facebook: www.facebook.com/expatfairkorea
Instagram: www.instagram.com/expatfair_korea
Contact us ? The Expat Fair Secretariat
Tel: +82-2-6000-1413/8004
Email: expat@coex.co.kr
<Show Overview>
Title:The Expat Fair 2017
Dates: 2017. 12. 9 (Sat) - 10 (Sun), 2 Days
Opening Hours:
2017. 12. 9 (Sat) 10:00 - 19:00
2017. 12. 10 (Sun) 10:00 - 18:00
Venue: Coex Hall C1, C2
Organizer: Coex & AngloINFO
Exhibit Items: Education, Medication, Tourism, Finance, Living, Food, Entertainment, etc.
Concurrent Events:
Beer Festival / Super Pet Show / Language Exchange Party
Korea Traditional Fashion Show / K-pop Dance Lesson / Korean Lesson
Foreign School Seminar / After Party with OCTAGON Seoul
(Free admission to Club Octagon after visiting Expat Fair on December 9th)
Visitor Pre-Registration to The Expat Fair 2017 Get Free Ticket!
http://www.expatfair.kr/tickets/