The Canadian contingent of World Scout Jamboree 2023 who stayed at Ajou University returned home safely. A total of 200 Canadian Scouts who withdrew from the camping site at Saemangeum due to the northern advancement of a typhoon stayed at Ajou University dormitory and continued their activities there for four days from August 8.
A farewell event was held for the Canadian students on the morning of August 12 at the New Student Union Building of Ajou University. On behalf of the 200 members, the leader and students delivered greetings and shared their memories of the World Scout Jamboree and Ajou University.
James Cadence said, "Although the situation was not what we expected, we are glad to have had this new experience. We thank Ajou University for offering the best dormitory and meals."
The university prepared refreshments and souvenirs for the Scouts. Drinks were also donated by Kim Jin-hwan, who lives near the university, to welcome and encourage the Canadian Scouts.
A total of 200 Canadian Jamboree Scouts, including leaders, arrived at Ajou University in the afternoon of August 8. Although it was an quick decision, as World Scout Jamboree members had to leave Saemangeum, Jeollabuk-do, due to Typhoon Khanun's advance north, Ajou University acted promptly to ensure the convenience and safety of the Scouts.
Dormitory facilities were prepared based on the exact number of Scouts and their gender ratio. As the Canadian Scouts arrived in teams, orientations were held on Ajou University and its dormitory facilities. During the Scouts' stay, breakfast, lunch, and dinner, as well as snacks such as fruit and fried chicken, were provided in the dormitory dining room.
The Scouts participated in various cultural and experiential events prepared by Suwon City, including a tour of Suwon Hwaseong Fortress and visits to galleries, art centers, and museums.
The World Scout Jamboree event is organized by the World Organization of the Scout Movement every four years. It is attended by youths aged 14 to 17 from all over the world. This year's 25th World Scout Jamboree was held in Saemangeum, Buan-gun, Jeollabuk-do.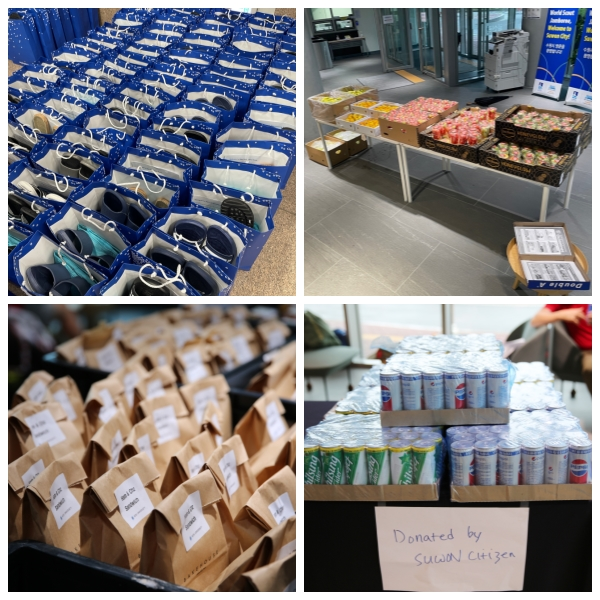 Before the arrival of the Scouts at Ajou University, welcome kits containing slippers and toiletries were prepared. Fruit, sandwiches, and drinks were also on hand. A resident donated drinks to welcome the Canadian Scouts staying at Ajou University.
Posing for a photo at the farewell event with a Canadian flag bearing messages from the 200 Canadian Scouts that stayed at Ajou University
Canadian Jamboree Scouts preparing to return home after their four-day stay at Ajou University