The summer 2023 performance presentation for Paran Sadari was held. Paran Sadari is an overseas training program organized by the Korea Student Aid Foundation to help financially-disadvantaged university students with their self-development and career exploration efforts.
The performance presentation was held on September 20 in the video conference room of Ajou University's Yulgok Hall, attended by President Choi Kee-choo, university staff, and program participants, who had visited George Mason University and University of Washington in July. The students shared their experiences, achievements, and memories of their time during the training. The event also featured a conversation with the president, award presentation, prize lottery, and tea party.
This summer, the Paran Sadari program was conducted at George Mason University and the University of Washington, both in the United States. A total of 50 students, including 42 Ajou University students and eight students from two other universities in the Seoul metropolitan zone, were divided into two groups of 25 for each university. The students attended an intensive English program for three weeks in July and August and participated in various experiential activities.
George Mason University is a state university engaged in advanced research in Fairfax, Virgina, and the University of Washington is a public university in Seattle, Washington.
Park Seung-eun, one of the program participants (Cybersecurity, age 20, George Mason University), said, "While I talked about various topics with students there, I was impressed by their dedication and passion for their studies and life. I made up my mind to become a person who has a dream and works hard to achieve it."
Yang Dong-min (Transportation Systems, age 18, University of Washington) said, "I planned to find and record at least one piece of knowledge about transportation related to my major every day during the program. The program gave me a valuable opportunity to broaden my horizons and gain experience."
To the students, President Choi Kee-choo said, "I hope the Paran Sadari program helped motivate you to realize your dreams. I urge you to share the valuable information and experiences you have gained with other participants of future sessions."
Paran Sadari is an overseas training program for financially-disadvantaged students. It was originally based on Ajou University's AFTER YOU program, which was launched in 2015. Organized by the Ministry of Education and Korea Student Aid Foundation, the program has supported training costs for 850 students from 17 universities nationwide. Host universities are divided into: the Seoul metropolitan zone, Chungcheong/Gangwon zone, Honam/Jeju zone, Daegu/Gyeongbuk zone, and Busan/Ulsan zone. In the Seoul metropolitan zone, Ajou University, Ansan University, and Osan University participated. The host universities operate training programs and provide the participants with career mentoring before and after the program.
Participants are selected based on their future potential and commitment to self-development instead of credits and language proficiency, which are the criteria used by Ajou University's AFTER YOU program. The program is entirely funded by the Korea Student Aid Foundation and host universities.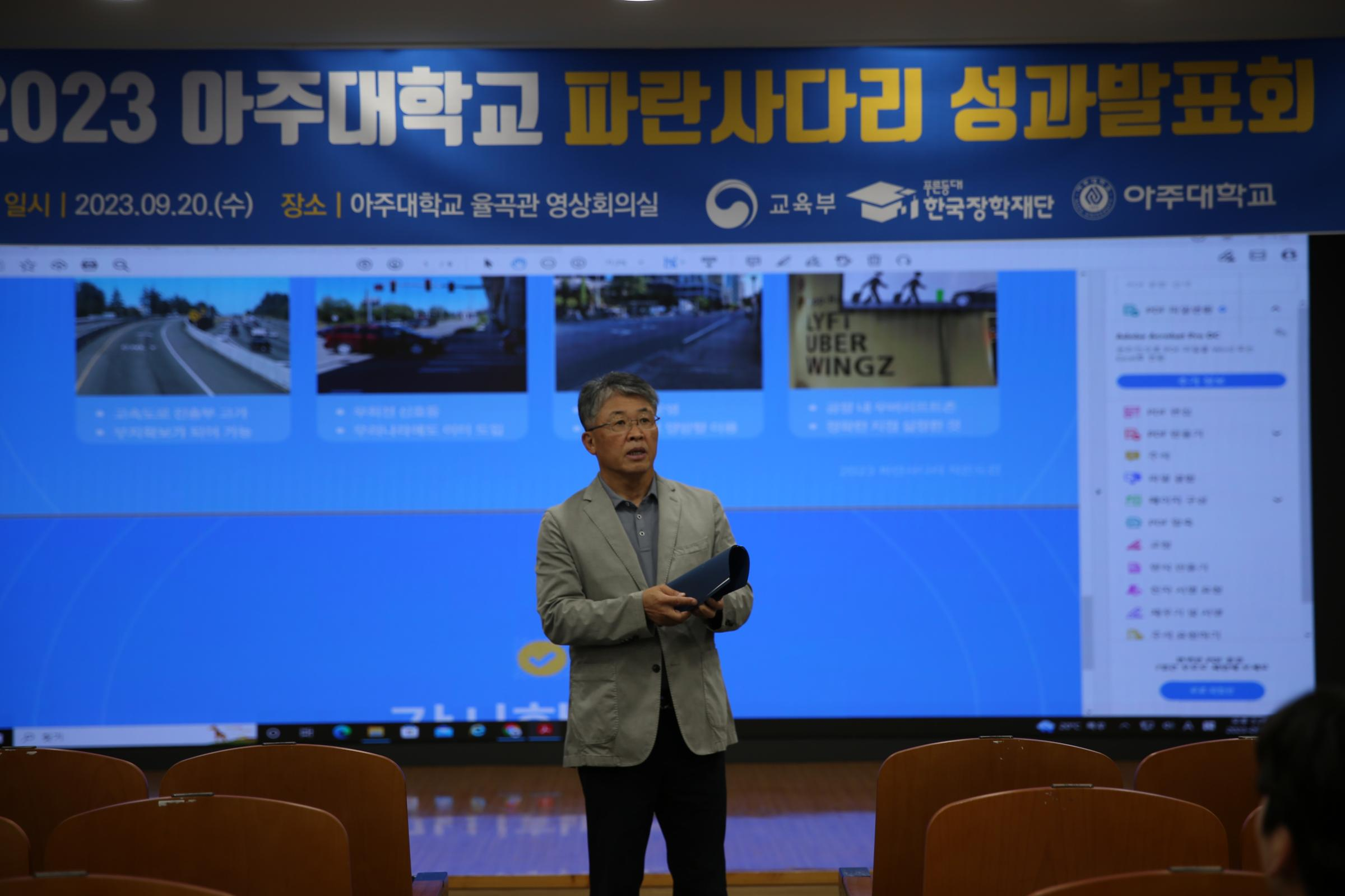 Conversation with President Choi Kee-choo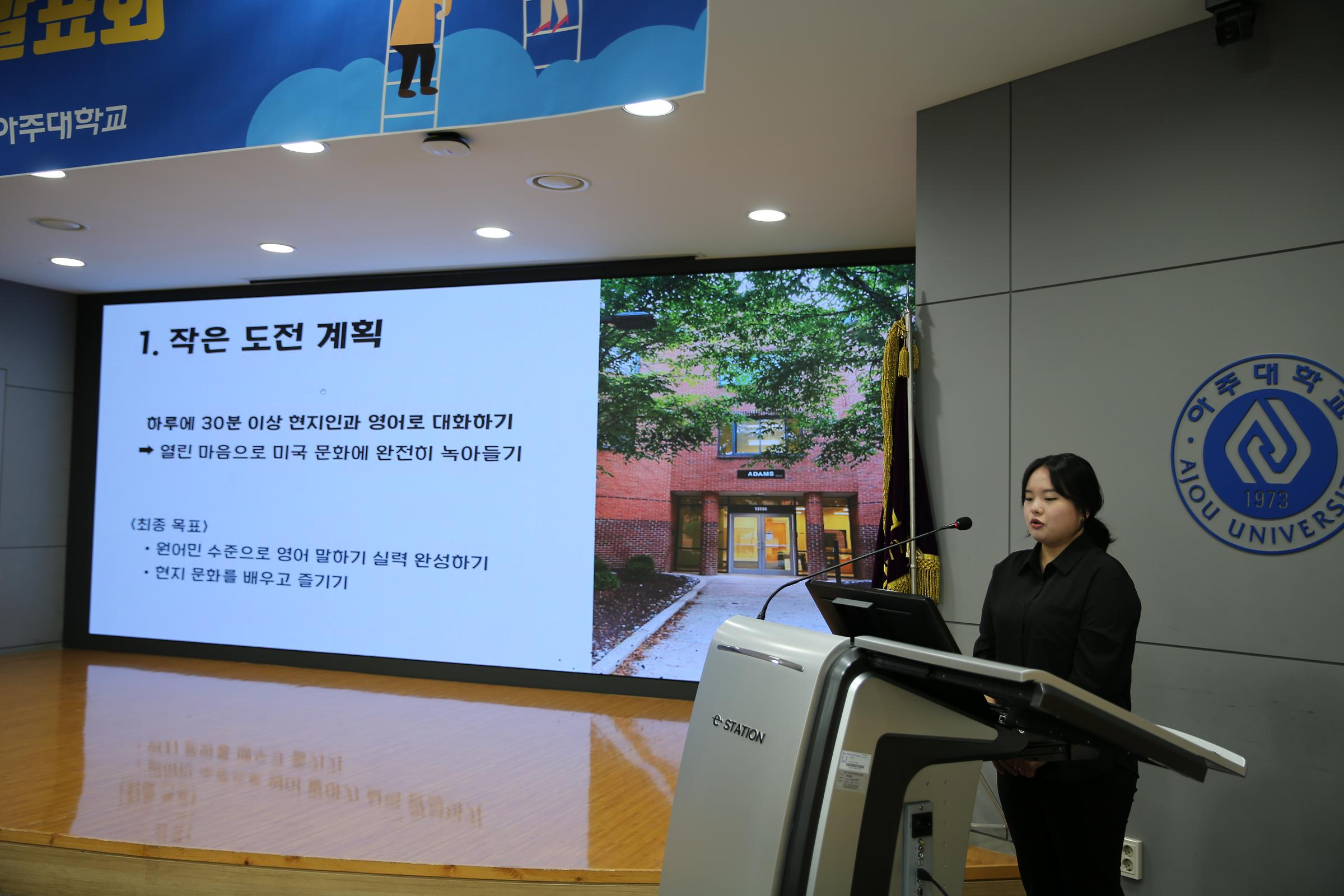 Student Park Seong-eun presenting the results of her endeavors
# Go to Ajou University blog